Entertainers Clothes
Costumes and Props
What you wear says a lot about your show. I've seen entertainers dress the same as the audience and of course nobody can say it's terrible,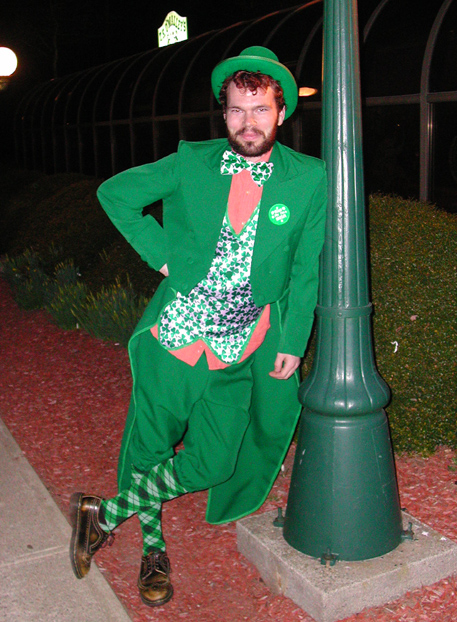 but it isn't engaging and lacks showmanship.

Here's a fella that was involved in a St. Patrick's day show. Now this costume is a lot better than a green plastic tie!

People feel that they are getting more commitment from the entertainer, and it is more theatrical if you use show clothes and props.
A great way to get more return gigs is to make an impression and leave them with something about which to talk.
I like the idea presenting a character rather than just a person playing and singing songs.

A patriotic show is marvellous if you have the flag in view as a prop and you can dress in something patriotic.

I found this shirt and wear blue pants to keep color coordinated.


There are lots of red, white and blue banners also available.

Old timey tunes accompanied by the old timey sounding tenor banjo is great.

That old "Five Foot Two Eyes Of Blue", "Oh Suzanna" sort of sound really takes them back.

If you can play guitar, then you can play tenor banjo by tuning it the same as the first four guitar strings.

I happen to own a tux, so it is perfect for a "Fake Wedding" party. We have done a re-wedding.

A married couple reconfirm their marriage in a second ceremony and everyone celebrates as if it were a wedding reception.


Yeee Hah! It's a western outfit for a country western program.

The hat and the vest make it so western.
Got cowboy boots? Well wear 'em.

This isn't expensive, and popular enough of an idea to use several times a year.




You can't beat the ukulele for a Hawaiian sound, and as a prop it is great.

As you can see, the Hawaiian shirt and lei are the least you can do to get the Luau thing going.