SENIORS ENTERTAINER
Musical entertainment for Senior Citizens. Tips, information, and useful links for entertainers, event organisers and activity directors. Senior citizen entertainment is a specialty.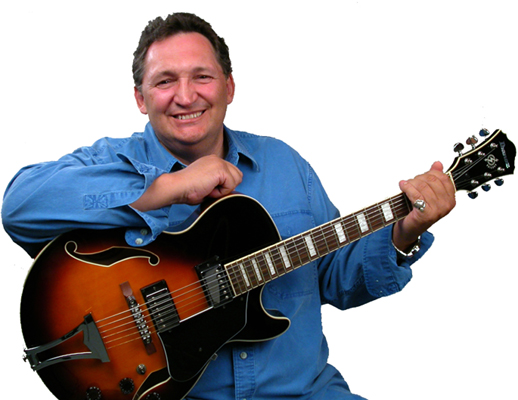 Bio - Roger Chartier - New Bedford, Massachusetts
Roger has made music some Videos of himself.
I was born at 6:31 AM on November 27, 1950 at a very early age.
I got excited about music and thought about being a musician after hearing the Beatles on a tiny transistor radio in 1963 I got a pair of drumsticks and started to learn drums - without a drumset.
When Ed Sullivan had them on that first night Feb. 9, 1964, I absolutely decided to spend the rest of my life as a musician. See that show here.
In early 1965 I fell in love with guitar when I played one at a friends house on a lunch break from school. I was 14 years old. I got a $20.00 acoustic as my first guitar. I have had about 40 guitars since then. I currently have 7 guitars and 2 basses, two ukuleles, two mandolins, a violin and two pianos as well as a trumpet. I play all of those quite well but the trum[pet is a new instrument for me so...
So after years of playing in a band and traveling all over North Eastern USA and as a guitar player, I decided to become a solo artist.

It happened on New Years Eve 1979-1980 while we were the house band in a hotel at the top of Mount Aggassiz in New Hampshire.

It was 40 below zero outside, and the band was stuck indoors all day.

I convinced the owner to hire me to entertain the guests who were also stranded as the hay ride scheduled for that day was cancelled.
That was the beginning of the solo career.

It had taken me 16 years to get to that point. I had loved playing in bands but found that being a solo artist I could work harder and call the shots as it were.

As a solo singer, guitarist, entertainer, I have performed all over New England though more so in Massachusetts. I did 2 winter months in Key West as a solo act and have returned there many times for some winter entertainer/vacations. I loved it.

One day in the early 1990's my dad told me about a friend's dad, Bill Brennan, who entertained in nursing homes etc. I thought "Well there are probably fewer customers fighting over the women, and nobody is throwing beer bottles at each other etc. so it might be a good idea as a sideline.

The sideline soon became a full time enterprise. Someone might ask what I do for a living, and when I tell them they say "Yeah, but what is your day job"...I tell those people "But it is my day job".

I am also a recording artist and have created 2 compact discs of traditional sea shanties and maritime songs. See the site www.sailorsongs.com They have sold well.

I have found that entertaining seniors is super rewarding for me as they are a fabulous audience and quite appreciative.

A fun thing I like to think is that as I get older I'll someday be their age, they are just starting on occasion to ask for Beatles songs... It has started but in a few years it will be all of the music from my generation. As always, I give them what they want and need.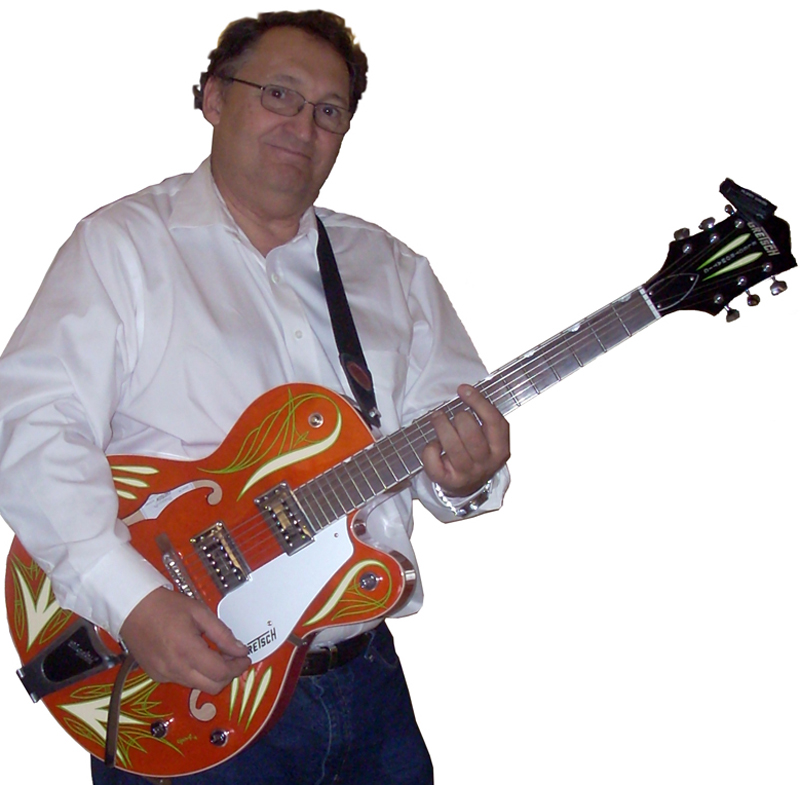 Roger Chartier playing his Gretsch guitar.
The chord is C7th if you were wondering.