STROLLING ENTERTAINMENT & MORE - SENIORS ENTERTAINER
Musical entertainment for Senior Citizens. Tips, information, and useful links for entertainers, event organisers and activity directors. Senior citizen entertainment is a specialty.
For seniors is a good idea for some types of entertainment. Here are some common examples.
Guitar and Voice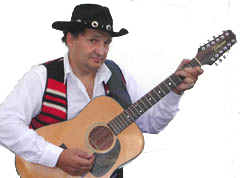 For a nursing home, you wander the corridors singing and playing acoustic guitar, un-amplified. Be careful not to strain your voice. I know this from experience.

You will find it to be an issue because we normally tend to push our volume a bit more when the ambient noise level rises and or we are trying to project to the back of a room. Usually these gigs are only an hour so it shouldn't be much of a problem voice wise.
Room to Room
You can go room to room and visit with each resident in their room for a song or stand just outside. If a resident is sleeping or too sick etc, the staff should tell you ahead of time. Be sure to ask about that before you start. Nursing and assisted living facilities often have day rooms or smaller sun rooms where you can stop and put on a mini concert of a few songs for a group gathered there before continuing.
You can also stroll and entertain a large group in a single room.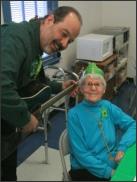 My pal Marc (on the left) will stroll about the room in a large gathering with a wireless guitar and microphone set up to amplify both from a speaker set up on the stage or where ever the focus of entertainment would be.
He can be closer to the folks in the audience and apparently the proximity to the audience, and eye contact with interaction works well.
Sometimes a strolling entertainer is accompanied by a staff member who precedes you to see if residents are interested in a room visit or not, or you can be left to judge for yourself how intrusive you should be.

Strolling entertainment other than a nursing home would be different, and much would depend on where you are. Sometimes a renaissance fair or a private or corporate party will hire strolling musicians.
Keep the music age appropriate and situation appropriate.
Violinist or Fiddler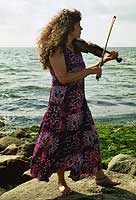 Much of what has been written in the section for guitarist/ vocalists above would apply here, as well. A violinist can create a more subtle and soothing atmosphere and can be more appropriate for a quieter area.
It can be a wonderful surprise to hear a beautiful violin piece. They also can be very upbeat. Seniors, children and all ages can appreciate good music. A good example of this is on Denya's website
www.denya.us
She is a wonderful fiddler!
Accordion player strolling about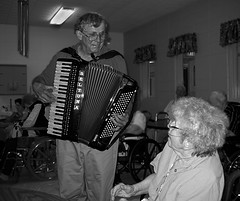 Balloon Twister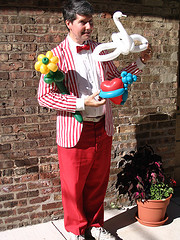 This fella has a colorful get up
A balloon twister is an artist creating things from balloons.
This can be a fun entertainment for all ages.
Going room to room in a nursing home and creating balloon hats or balloon animals for residents can be entertaining and put a sparkle in anyone's eye.