Reviews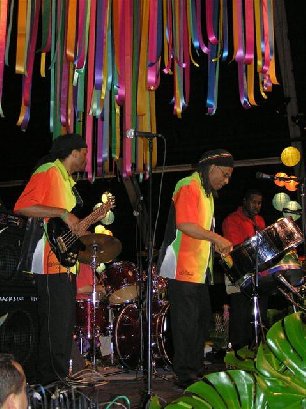 I just want to thank you again, SO MUCH for providing such excellent music for our Paregentan Ball last Saturday. Shabang added an infinite amount to the Cruise Ship ambience and overall enjoyment of all of our guests. We received many compliments from those at the event, and we look forward to, hopefully, Shabang playing at another event for us in the not too distant future!!! Thank you again Harry!

Ida Mazmanian - Paregentan Ball
(Jan 27, 2008)

On behalf of the 49ers and e2k Sports, we want to sincerely thank Shabang! for participating in the 2007 49ers Latino Heritage Day. Thanks to your support we had a successful event enjoyed by over 60,000 people at Monster Park...Thank you so much for putting on a great show...I hope that we will have the opportunity to work together again next year!
Erin Olmstead - San Francisco 49ers/E2K Sports
(Oct 8, 2007)

Thank you very much for a wonderful performance today. Received many thank you's and requests for your cards.!!! Take care and hope to see you soon at another event.
Wendy Fedde - IBM Office Services Team Lead (May 2, 2007)

On a personal note, as you know, my husband and I have a baby arriving any day now- so I feel very fortunate to have been able to make it...to witness the incredible event we created, together. The memories of this fun and successful day will remain with me over the next few months of diaper-changing, nursing, and rest-deprivation that I'm anticipating :) ... and I'll really look forward to working with you in the coming year...
Jennie Hearing - American Lung Assoc. of Cal. (Apr 2, 2007)

Harry Best/ Shabang, P. O. Box 21783, El Sobrante CA 94820, 510 222 1123
harrybest@shabang.us, http://shabang.us
You were wonderful last night!!! The gift of your music was very much appreciated by all last night! I've gotten many phone calls today acknowledging what a fun night it was and what a fabulous band you were! I wanted to take a moment to let you know again what a blessing all of you were to the community last night and me.
Carol Ann Wentworth - Sausalito Chamber of commerce (Jul 5, 2006)

On behalf of Point Richmond Music, I'd like to thank you for your performance Friday evening. It was a wonderful event, and your music was perfect for the evening. Steel drums at an outdoor concert on a warm summer evening lent just the right free and festive feeling we were looking for.
Please thank the whole band for a great performance.
Sydney Metrick - Point Richmond Music (Jun 5, 2006)

All of us at Alameda Alliance for Health enjoyed your music and sincerely appreciate your making our event today so festive. You guys are fabulous, organized, and professional. I will definitely recommend you to my friends and associates. I'm enjoying your CD right now and staying in the island mood... :) Best regards and many thanks!
Laura Burr - Alameda Alliance for Health (Jun 1, 2006)

Our heartfelt THANKS to each and every one of you...Together we teamed up to put on an event that we can feel a great sense of pride in. Our wonderful theme "Party Gras" created the perfect backdrop to creating an atmosphere of fun and merriment...It has been our pleasure working with you.
Board of Directors - Napa Town & Country Fair.